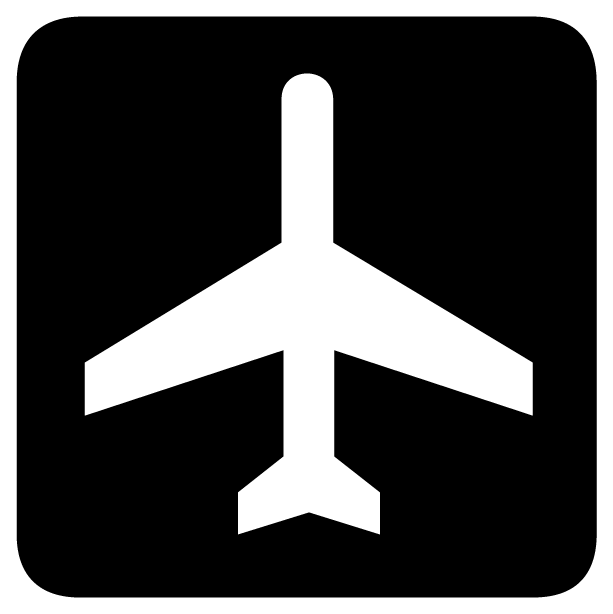 Travel: Tips for People with Disabilities
Here are some helpful tips for traveling whether it's for a vacation, family visits, or business travel. Information on travel by plane, bus, or train and tips for making hotel reservations, traveling with oxygen, and service animals.
Information was provided in part by Access-Able, the National Business Travel Association, and the Department of Transportation.
Airlines
People with certain medical conditions may want to contact their doctor before flying.
Make reservations in advance.
Inform the airline if you need assistance boarding.
Those in wheelchairs should request a seat with lift-up arms for easier transfer from the aisle to your seat.
Check your chair or scooter at the boarding gate and label equipment with your name and address.
Before landing, remind flight attendants that you need your equipment brought to the gate.
In the United States, the Air Carrier Access Act prohibits airlines from discriminating against people with disabilities. Outside the United States Keep,  many of these regulations are not enforced, so be prepared.
Before you book your flight, call the airline and ask how they will handle your needs as a person with a disability. If you are not satisfied with the response, ask to speak to a complaints resolution officer (CRO) immediately and work with the CRO until you feel your concerns have been heard and your needs will be met. Each airline is required by the US Department of Transportation to implement a complaint resolution mechanism, which includes designating a CRO. The airline must make this person available via telephone at no cost to the passenger.
Delta Airlines–  Accessible Travel Services. Travelers with Disabilities, tell us what we can do best to meet your needs by calling us.
Phone: 404-209-3434.
United Airlines – Customers with Disabilities can call United's 24-hour Disability Desk
Phone: 800-228-2744
Southwest Airlines – Customers with Disabilities can call for accommodations and help
Phone: 800-I-FLY-SWA or 800-435-9792 for assistance.
American Airlines – Special Assistance Line
If you have questions or want to make special travel arrangements, you can make them online or call 800-433-7300, for hearing or speech impaired assistance, call 800-543-1586.
JetBlue – Accessibility Assistance
Phone: 855-232-5463
Icelandair – Traveling with Reduced Mobility
Phone: 800-223-5500
Autism Speaks Taking a Airplane (pdf)
A guide for people with autism that can be reviewed before traveling.
Travel by Air Links United Spinal Association has information related to traveling by air.
Hotels
Talk directly to the hotel staff rather than central reservations.
Never assume anything. Research can avoid unpleasant surprises.
Make sure you are guaranteed an accessible room; don't just make a request.
Traveling with Oxygen
Make arrangements in advance.
Obtain a doctor's statement of needs.
Know that you cannot bring your own oxygen supply on board but airlines must permit a passenger to use his/her Portable Oxygen Concentrator during the flight if it is labeled as FAA-approved. Airlines charge by flight or amount for the use of their oxygen tanks.
Know that airlines don't provide oxygen for use in the terminals.
Ground Transportation
When booking flight or hotel room, ask for an accessible shuttle.
Call the National Transit Hotline at 800-527-8279 for a list of local transit providers. Or, visit the Community Transportation Association website. Paratransit services may provide door-to-door service, public buses or ride-sharing opportunities.
Greyhound Bus – We are available to provide any requested assistance which is reasonable. The types of assistance that we are more frequently asked to provide involve boarding and de-boarding, luggage, transfers, and stowage and retrieval of wheeled mobility devices. This service is provided during transfers, meal and rest stops and other times as reasonably requested. We are happy to assist you whether you are traveling alone, using various wheeled mobility devices, or being accompanied by a service animal.
Phone: 800-752-4841,  Spanish/Español: 1-800-531-5332  TTY/TDD: 1-800-345-3109     Email:  ADA.support@greyhound.com
Amtrak – Amtrak supports the Americans with Disabilities Act and we have worked to make our facilities more accessible to customers with disabilities. Our goal is to provide safe, efficient and comfortable service to all of our passengers. We are pleased to provide additional services to passengers with disabilities, and we have worked to make our facilities more accessible to customers with disabilities.
Phone: 800-872-7245
Metal Implants and Internal Medical Devices
Travelers with metal implants including joint replacements, often have questions about airport security screening.  Doctor's ID cards and notes are not needed. You may be asked to have a second screening with a wand, pat down or imaging machine. Removing clothing to show surgical scars is not needed. Some people like to tell TSA screeners that they have metal implants before they walk through security, but self disclosure is a personal choice.
Transportation Security Administration (TSA) Information – If a passenger has metal implants, such as artificial knees or hips, he or she should inform a Transportation Security Officer (TSO) before screening begins. Passengers can use TSA's Notification Card to communicate discreetly with security officers. However, showing this card or other medical documentation will not exempt a passenger from additional screening. Many passengers with metal implants that regularly alarm a metal detector prefer to be screened by imaging technology in order to reduce the likelihood of a patdown being necessary. A passenger can request to be screened by imaging technology if it is in use and available at the checkpoint. If a passenger cannot or chooses not to be screened by imaging technology or the passenger alarms a walk-through metal detector, the passenger will be screened using a thorough pat down procedure.
Information on knee/hip implants
Boston Scientific Traveling with a Pacemaker 
Abbott Traveling with your Device 
Service Animals
The Americans with Disabilities Act requires businesses to modify a "no pets" policy for service animals. Deposits and surcharges may be imposed on a disabled traveler for the use of a service animal.
Carriers must permit a service animal to accompany a disabled traveler to any seat unless the animal obstructs an evacuation area.
Transportation Security Administration (TSA) Passengers with Service Dogs – If a passenger has a service dog due to a disability or medical condition, both the passenger and the service dog will be screened. The passenger should inform a security officer that the dog is a service animal and not a pet. It is helpful if the animal is wearing gear (a harness, vest, etc.) to indicate that it is a service animal. Passengers with service animals may request to access the checkpoint by the dedicated family or wheelchair lanes if they exist. Choose Service Dogs and Animals from the drop down menu on the website.
Traveling with a Service Dog, a Complete Step-By-Step Guide
Other Resources
The Department of Transportation offers disabled travelers information about the Air Carrier Access requirements for accommodations, facilities and services. An online guide provides directions on how to plan for a trip, including what you need to pack; how to get on and off the plane with mobility aids; and the rules that air carriers need to follow for seat assignments, service animals and personnel training.
TSA Cares & Passenger Support
Travelers with disabilities and medical conditions can call TSA toll free at 1-855-787-2227 prior to traveling with questions about screening procedures and what to expect at the security checkpoint. The hours of operation are: Weekdays 8 Am to 11 PM EST, Weekends/Holidays 9 AM to 8 PM EST, excluding federal holidays. Travelers who are deaf or hard of hearing can use a relay service to contact TSA Cares or can e-mail TSA-ContactCenter@dhs.gov.
Transportation Security Administration (TSA)  Info for Disabilities and Medical Conditions  – To ensure your security, all travelers are required to undergo screening at the checkpoint. You or your traveling companion may consult the TSA officer about the best way to relieve any concerns during the screening process.
TSA Cares is a help line to assist travelers with disabilities and medical conditions. TSA recommends that passengers call 72 hours ahead of travel for information about what to expect during screening.  Travelers may call TSA Cares toll free at 855-787-2227.  Contact TSA Cares at TSA-ContactCenter@tsa.dhs.gov .
Autism Speaks – Traveling Tips for Individuals with Autism and Their Families
Fact Sheet last updated on: 8/9/2021